Speedshop Home of the HF integrale
---
The Lancia Delta HF Tuning Guide We are often asked what are the best modifications that can be done to a Lancia Delta HF integrale. Even if in the meantime the purpose why you buy a Delta has changed a lot, in the more than twenty years that we deal intensively with these vehicles, it shifted also how to tune the car. In former times the Delta was a vehicle and engine that was often heavily tuned and used for Drag-, Circuit-Racing, Time Attack and Hill Climb. So nowadays there are certainly better and more efficient options to succeed in Motor Sports except of course...
---
Lancia Delta HF integrale Auction and Market prices going wild. A short Excerpt about whats currently going on.
---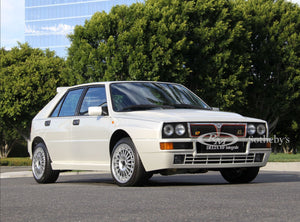 Lancia Delta HF integrale, Quo Vadis?
Where are you going Delta? This might be the main question all enthusiasts are asking themselfs. Check here for the latest auction results.
---
• alignment • bushings • camber • suspension • toe • track • vehicle dynamics
The Geometry Basics Section 1 – Basic Wheel alignment terms There are three main wheel alignment angles, which determine how each wheel is positioned relative to the car, the ground and each other. These are camber, caster and toe. Camber and Toe angles refer directly to the wheel, while Caster on the other hand is a measurement of the suspension geometry. Camber is the inclination of the wheel from the vertical relative to the ground when viewing from the front (or rear) of the car. a) Positive (+ve) camber is when the top of the wheel is laying outwards.b) Negative (-ve)...