Speedshop Home of the HF integrale
Have you ever questioned yourself about using a manifold and not sure which route to go. This post will try to bring some light into the variety of manifolds available.
---
The Lancia Delta Auction Result and Forecast Barometer
---
• alloy • AlMGSi • cast • flowforming • forged • lightweight • modular • montecarlo • O.Z. • OZ • speedline • wheel • wheels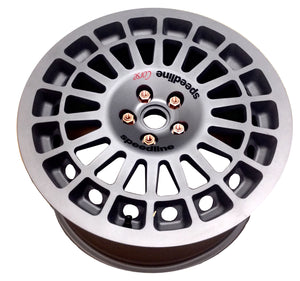 Cast Aluminium The simplest type of casting is called Gravity casting and is done by pouring molten aluminum into a mold and letting it spread, harden and set. Low pressure casting is a slightly better process, whereby the aluminum is forced into the mold and set with vacuum pressure, where helps to eliminate those air pockets and increase structural integrity. While cast wheels can be quite strong, they are also heavy, making them not optimal for performance. Flow-Forming "Flow-forming" (also known as "roll-forging" and "spun-rim manufacturing") starts out similarly to low pressure casting. But instead of letting the allow fully set, it is finished...
---
• lancia delta hf integrale evo piston forged race high compression cr valve pocket pin secure lock turbo
What is the piston to use and go for in your next build, let's discuss a bit the theory and what our findings over the years are.